Main content starts here, tab to start navigating
GOLFZON VISION PREMIUM SIMULATORS
So real you'll forget you're playing indoors.
Semi-private golf suites
Our semi-private suites will give you the distraction free golf we all love and deserve. With 5 Tee blocks, secluded in their own space, never worry again about judgment and distractions during play. A bar height counter that seats 4, is tucked away neatly for you and your party to enjoy, and a wall mounted call button ensures that your server only interrupts when requested. With ample space to swing freely and store clubs, each bay is equipped with an impressive 15' impact screen so you'll feel like you're right there in the moment.
$60 / hour
+ tax
Each of our suites will comfortably accommodate 4 golfers and can be reserved by the hour, for as many hours as required.
(Approximately 1 hour per golfer for 18 holes)
The executive suite
If you're looking for luxury in your game, then look no further. Our fully private suite ensures that all of your needs are met. A state-of-the-art conference room, equipped with all the necessities including, a 65" TV monitor, computer, and a 10 seat table for you and your guests (or clients) to enjoy. Feel like playing a round? no need to move, because your suite is equipped with a massive 20' golf bay only steps away. Once inside the simulator area you will be met with cushioned seating for 10 (max occupancy is 14) and a playing area made for a King or Queen. To top it off, you will be equipped with a private call button to have your server come to you, when you want them to, without unwanted distractions. If you are booking for a group of 10 or more, you are requested to contact Linx customer service before booking.
$100 / Hour
+ tax
Reservation time can be used however you wish within your room.
(Approximately 1 hour per golfer for 18 holes)
awards are not given they're earned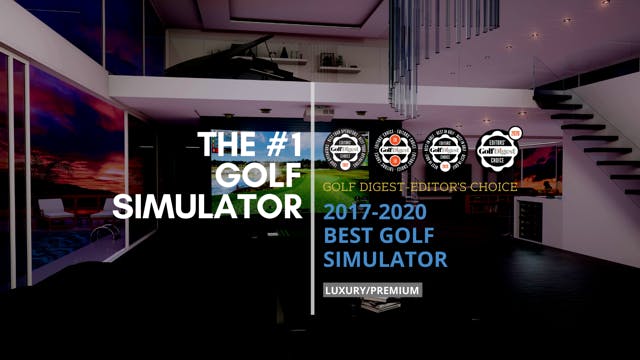 See what makes GOLFZON #1 in the field
Moving Swing Plate
VISION Moving Swing Plate automatically adjusts to uphill, downhill, and side hill lies by simulating course slopes from the tee box to the putting green. You control how much slope you get from the settings at the start, if you want to take it easy on yourself, or if you are a skilled golfer wanting to experience totally realistic lies.
Smart Auto Tee-Up
GOLFZON's Auto-Tee feature means you don't need to bend over to tee up your ball. Set the Auto Tee height and the system gets you going. It doesn't get any easier.
Multi-surface Hitting Mats
Multi-surface Hitting Mats, each portraying fairway, rough and sand bunker conditions, provide realistic simulation to a real golf course. If you use the right mat for the given condition, you will acquire the exact distance for the given condition. You can also adjust the level of sight when playing from the fairway, bunker or while putting to gain a natural feel.